First of all Happy 2019 to you all. I had wanted to make this first post of the year a lighthearted post but having watched my partner fall to pieces over the holidays has as you can imagine changed my mind. Andrew, as I've mentioned before is a good, kind man who works hard  and well who has been nevertheless illegally fired after nearly 5 years of service by The Stars Group, PokerStars, Amaya, Rational Group or whatever the fuck they are currently calling themselves. He'd done no wrong (they claim otherwise and supposedly have witnesses but Andrew has recordings of conversations and emails that show the true story), but that didn't matter according to them he can be fired for any reason. They told Jobsplus (the Maltese job centre) that he'd resigned presumably so that they can employ a new victim either here or more likely in Bulgaria for which they had already been advertising whilst Andrew was still employed and where labour is cheaper. So here we sit in the shit wondering where the next euro is coming from. So beware people if you want to work for an igaming company choose well or you could end up in the same boat.
They also lied to Jobsplus about his job title which had been Junior Web Publisher Since Feb. 2017. He hadn't held the job title shown below for nearly 4 years. Here's some proof that they are liars.
Passage from termination letter:

From the email Andrew received from Jobsplus: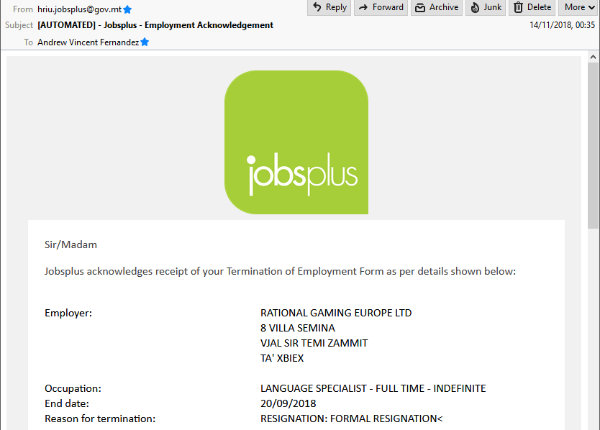 So if ever you thought you may buy a piece of my art then now would be a great time to buy.