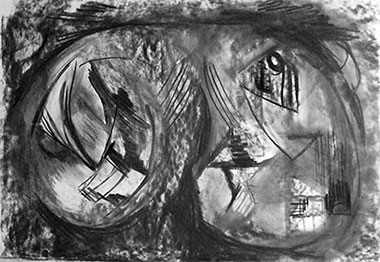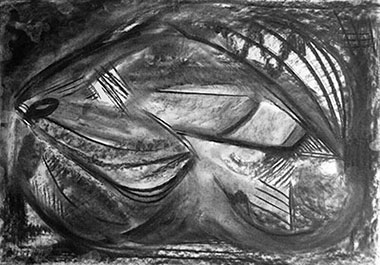 Haven't been able to post anything recently as I slipped a disc 8 weeks ago and have been more or less confined to bed and on the happy pills (pain killers).

During those weeks, apart from reading a huge amount I have not been able to do much else. The last week or so, I've started to get back to normal – I'm like the walking wounded now.

As soon as I was able to move about – I went back into my studio and lay on the day bed. Hobbling along the hallway form the darkness of the bedroom to the brightness of my studio really lifted my mood. I analysed the paintings on the walls. Which I found to be a very good exercise. It has also given me so many new ideas and I have many paintings in my head now – enough for several series, which I will start on as soon as I'm physically able.

I've managed to complete a couple of abstract charcoals which I had started before the disc incident. Playing with charcoal whilst flat on my back wasn't easy and the sheets retained a lot of the lovely grey tones from the dust.

I've also managed to complete a few pencil sketches and my gallery is now split into two sections: "Acrylics" and "Charcoal & Pencils". A third section for digi-art will be added soon.