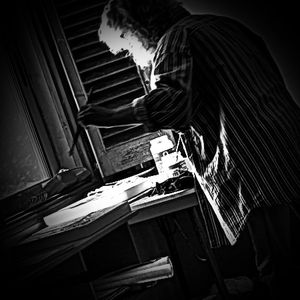 Written by anonymous
When and accident left her unable to walk and stuck in a little house, half way up a hill on Paros, Greece, Lyn Walters began painting with a box of watercolours she had found in the house on whatever medium she could get her hands on... old cardboard, tree bark... and sometimes even paper. Born out of the need to keep herself occupied, Lyn had discovered a new passion.
Lyn Walters' first works were still life and scenes of things she saw in and around the house. Watercolour scenes however did not satisfy her desire for deep and rich colours, leading to her graduating to the acrylics she uses today.
Some of her work is scattered across the world: from Australia through Asia to Canada, left behind or given away during her travels.
In 2007, Lyn and her husband migrated to Malta, little knowing the island would keep them cradled within its shores. It was here that Lyn evolved into the artist she is today, painting mainly in acrylics on canvas. But also working with pencil and charcoal on paper, which not only provide a break from her usual rich colours but also allow for a focus on details such as the lines in a face that define the character in a portrait.
Lyn's work continues to evolve. Exchanging thoughts and ideas with other artists and experimenting with new techniques.
Like all artists, most of Lyn's work is inspired by her surroundings. Representing what she sees with an emphasis on layered colours. Abstract representations of the mix of old and new architecture, the constant construction and often suffocating new structures drive a lot of her work. Finding resonance with many and provoking a few.
Lyn's works often include details that may not be apparent at first glance, allowing viewers to get lost in the details and to make up their own stories. Although Lyn is always aware of what she paints, her main statement is that she invites everyone to see and interpret whatever they want in her art, much in line with the free spirit that she is.
Exhibitions:
2003 - Private showing in Subang Jaya (Kuala Lumpur, Malaysia)
2007 - Art Bar La Teteria, Spain
Da Vinci's, Gibraltar
2008 - Two juried exhibitions of the Malta Arts Society
2009 - Spring Mixed Exhibition at VeeGeeBee, Valletta, Malta
2010 - Two juried exhibitions of the Malta Arts Society
2010 - Solo exhibition at the German-Maltese Circle, Messina Palace, Valletta, Malta
2014 - Mixed exhibition, Bieganski Art Festival, MCC, Valletta, Malta
2015 - Solo exhibition at the Palazzo de Piro, Mdina, Malta
2016 - Mixed exhibition "Colours", Cavalieri Art Hotel, St, Julian's, Malta