Since the big clean up in the studio Andrew's boss has left us a 22inch wide screen monitor to look after so we've set up a work station for me in our sitting room.

The photo on the left is of Andrew's work area and the right hand side is mine.
It's really funny to see this set up as I have never really been into computers, Andrew is the geeky one

It's made a huge difference having a large screen for the digi paintings, especially since it's hooked up to the lap top so that screen has all the other
stuff on it
My approach to digi painting has been much the same as my approach to acrylic painting, experimentation and trial and lots of error. With equal amounts of frustration and fascination thrown in for good measure,Ohh and lots and lots of layers.

Having the 2 screens has meant that I've finally got a bit of a grip and am sorting out files and folders and other - for me - mundane tasks that I've never mastered (much to Andrew's annoyance).
It's surprising how liberating I'm finding it.
Below is the first of the digis from the super duper wide screen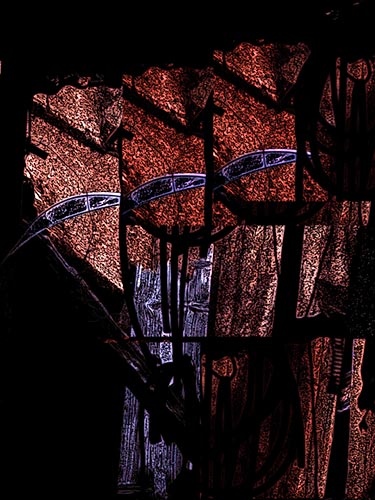 Now I get to move back and forward between the studio and the computer, let's see if a little exercise helps the creative process.