I decided a couple of weeks ago that rather than have some of the older paintings sitting around the studio gathering dust, it would be better to re-use them. So without a totally clear idea of a theme, I started on the one below.
Probably due to the fact that we've been living in the same apartment for 4 years(the longest time we've lived anywhere)this painting, which begun as an abstract started to take on the semi linear lines of the buildings which surround us.
Using pastels which give a lovely texture on canvas as well as my customary acrylics Pell Mell virtually painted itself.
I was pretty pleased with the result and started the second painting.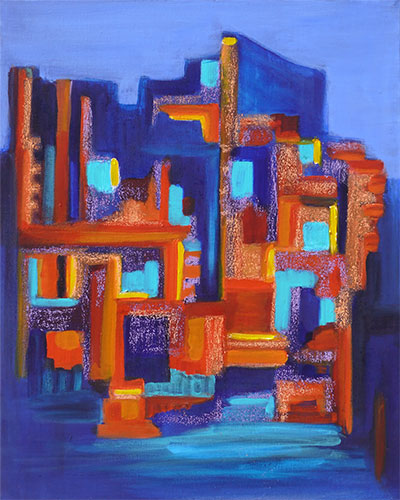 Starting the second one it soon became clear that this was going to become a small series. Not only that but when this one was finished I realized that it was much better than the original and so it's back to work on the first one to give a little more definition to the shapes.
This will be the third of them. It's still a work in progress, and I'm enjoying incorporating parts of the original painting into the new one.I'll post photos of this one and the first Pell Mell when they finished