Well here I am again, another week has flown by. School is certainly keeping me busy. I feel that I'm learning as much as the students (hopefully) are.
Still haven't found time for much painting, but there is a long weekend coming up here in Malta, so I should be getting the brushes out very soon.
In the meantime I thought I'd show two more of darling Dion's poems. He wrote them after looking at some more of my work, I feel quite honoured that my paintings move him to write. So without further ado here they are.
Hidden

Casting off the vessel leaves the sandy shore.
Braving the storm and all it's got in store.
A horrendously horrifying, hazardous haze.
A magically mesmerising, mystical maze.

Its precious cargo is packed tight and out of sight.
Its passengers courageous and set to take on the night.
Travelling through unchartered waters at a rapid pace.
The vessel remains strong as it's repeatedly hit in the face.

Riding the waves; tossed about like a bottle top.
The crew is concerned, but the captain won't stop.
In his mind are visions of the Promised Land.
With verbal reassurance he bravely takes a stand.

A mysterious beam of light appears from up above.
Silence descends, broken by the flapping winds of a dove.
The anchor is lowered, the vessel comes to rest.
It's hidden behind a rocky cove, perhaps for the best!

Will all their hopes, dreams and efforts be in vain?
Should they alight, remain hidden or venture on again?

Written by: Dionisius Peter Paul PIZZUTO – 02 Aug. 2011.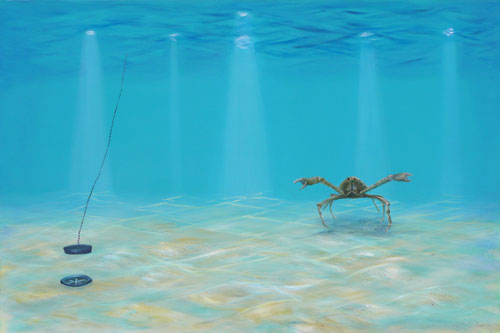 "Who's Letting The Water Out?"

Water is the essence of all living things.
Health and vitality among others it brings.
It gives life to colour, movement and sound.
It nurtures all that's in the air as well as on the ground.

A crab is truly industrious and often on the go.
It dwells both above the shoreline and below.
It scurries about nipping at anything in its way.
A tenacious hunter that won't consider becoming prey.

In a deep, tranquil pool the crab loves to rest.
Its life may be considered to be one of the best.
To the crab danger is like water off a duck's back.
Clad in a coat of armour it's prepared for any attack.

Unbeknown to the crab, man often plays God.
Stirring up trouble with the proverbial rod.
Whatever he wants, man selfishly takes.
Often fueled by greed he can empty lakes.

As the water starts to drain the crab lets out a shout,
which desperately translates to "Who's Letting The Water Out?"

Written by: Dionisius Peter Paul PIZZUTO – 05 Aug 2011.
Once again many thanks my friend.