Wow, I'm sitting here listening to some really cool music, enjoying a glass of white wine and mooching through a couple of art forums. What a treat.
I've been so knackered since I started teaching that the only stuff I've done on the net has been research for classes and the odd scroll through the news. I seem to be sleeping, breathing and eating words at the moment.
I've found teaching to be like painting - one huge learning curve - compulsive, interesting, exhilarating and frustrating in more or less equal measure.
I really needed to get into the studio and get my hands dirty so below is my latest wip -as you can see it's heavily textured with the first few of what will be loads of layers. Can't wait to pick up some more colours and get back in the zone.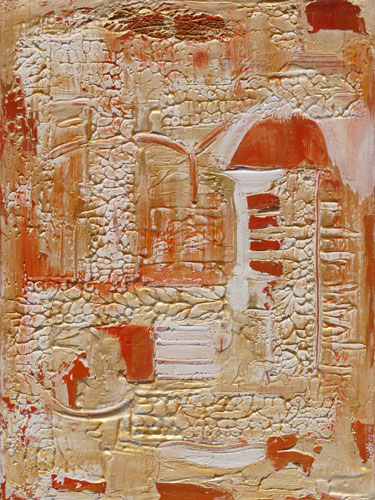 On a completely different note, last weekend a friend came to visit, He's been mentoring me at school and as a thank you I gave him a painting,
So we had a couple of glasses then off he went , a couple of days later he e-mailed me this poem:

The Artist

So wonderful is he with a humble heart,
communicating spiritually from the start.
Seeing beauty in people, animals, stones.
Able to interpret gestures, languages, moans.

For him life is truly a work of art.
With his innate talents he plays a part.
Causing an impression is his fun game.
Making a difference is his only aim.

With each new day the artist thrives,
delving deep into the colour of people's lives.
Capturing vivid images, feelings and sounds.
Interpreting idiosyncrasies, fantasies and surrounds.

His talent is as powerful as a Molotov cocktail.
Its potency depends on attention to detail.
There's power in the stroke of a brush or pen.
Create an artistic piece and you'll do it again.

The artist dwells inside you and me.
Don't hesitate to set the artist free.

Written by: Dionisius Peter Paul PIZZUTO – 25.7.1

Thanks darling Dion you are a star